Webinar Playback
Using mHealth to Improve Care Coordination Communication
In this webinar, Al Puerini, MD, President & CEO of RI Primary Care Physicians Corporation and Nick Adams, President & Co-Founder of Care Thread, will share how physicians can use mobile technology to improve patient care, enhance physician workflows, reduce communication inefficiencies and unnecessary treatments and improve outcomes.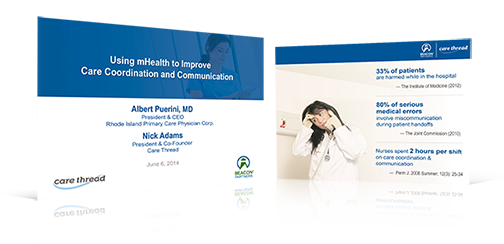 Key learning objectives of this webinar include:
Identify the top care coordination challenges that are creating inefficiencies in physician workflow

Show how the collaborative workflow model can be improved using mobile technology to foster better teamwork, reduce medical errors and improve quality of care.

Demonstrate how mobile care coordination technology and secure mobile messaging can accelerate access to information and communication between providers through real time notification.

Understand the financial impact that mHealth can have on healthcare organizations.